While blog surfing this morning, I came across a post on of cats and cardstock blog titled "One more reason to go to Starbucks." I was already leaning toward a stop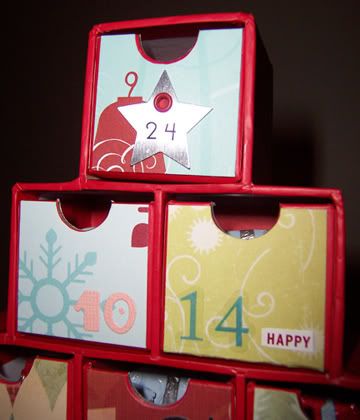 by Starbucks anyhow (a little caffeine comes in handy when chasing - I mean teaching ;) - three to six year olds during Sunday School) and seeing her beautiful altered advent calendar solidified it. Off I went for a cup of iced Mocha (yes, iced - that Sunday School classroom is HOT) and an advent calendar.

After lunch, I pulled out lots of fun scraps & stash to begin altering it. Flipped the XM Radio on our satellite to Holiday Traditions to help g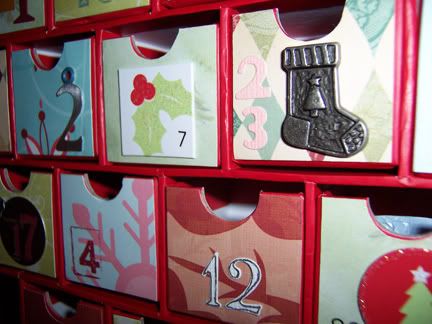 et into the Christmas spirit. And a bit later I had my own altered calendar.

Here are photos of the results. It's now proudly sitting on the top of the entertainment center in our living room.

Supplies: Autumn Leaves Foof-a-La, Chatterbox, Cosmo Cricket, Paper Salon, Provo Craft and Scenic Route patterned papers; QuicKutz Moxie, Sunshine and Tangerine fonts; Jolee's Boutique sticker; Making Memories metal charms, brads, eyelets, rub-ons, cardboard stickers, TinyAlpha stickers, wordfetti; Li'l Davis rub-ons; silver stamp ink pad from Target $ spot; Uniball Signo silver pen; Die Cuts with a View adhesive backed cardstock; KI Memories present sticker; rub-ons; snowflake punches.