Angela Daniels posted a photo of her ornaments last week on her blog. It got me thinking about how I should start photographing and recording why certain ornaments have special meaning to me. Our tree has some typical shiny "filler" balls that are just ornaments. But it also is full of ornaments that tell a story. With that idea in mind and the prompt from Dec 6 of dw2007 ("create a unique border..."), I created tonight's card: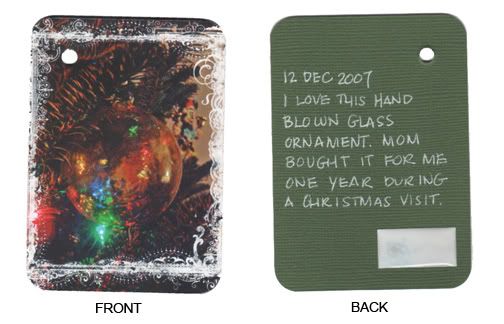 Supplies: "Black Frame" (I changed it to white) from the Color My World kit by Rhonna Farrer (Two Peas in a Bucket); Bazzill cardstock; Uniball Signo white pen; Making Memories epoxy sticker.

2ps blog challenge:
10 of your greatest joys...

my marriage :)
my family
my faith
my scrapbooking
my furbabies
helping others
teaching the preschool Sunday School class
Surely there's more! I'm drawing a blank at the moment. Probably because I'm up past my bedtime. ;)