Each year after Christmas and with the New Year on the horizon, I tend to get into a spring cleaning mood a bit early. This year I thought I would share some of the scrap room organization ideas I've incorporated over the past year. I'm going to break it up into multiple posts over the next few days. Hopefully, you'll find a bit of inspiration. :) Click on any of the images for a better view.


The room where I "play" is the smallest bedroom in our house - 10 feet by 10 feet - but carries a LOT of responsibility. The computer area, my scrap space, and cats' litter box all squeeze in. Until about 3 months ago, the treadmill lived in there too. Yup, chaos! LOL :D The floor plan to the right will give you an idea of how tight things are.

My scrap desk is located opposite the door. I like this spot where I can see the tv and see the furkids coming and going. Sometimes they just lay in the hallway outside the door and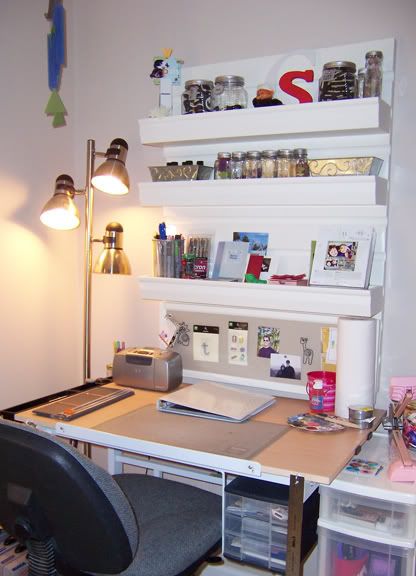 watch me or nap. ;) LOL The desk itself was the first official "scrapping" furniture purchase I made when we bought the house. I got it at AC Moore for $50 using a 50% off coupon. That's just the start of my "deals" [remember, I'm a big coupon-er and money saver ;)] in this space.

The light fixture next to the desk was a hand-me-down from a friend who was moving. So glad I scooped that up as it gives me excellent lighting when working on my projects.

The wallboard and shelving are from Pottery Barn. It's a discontinued item called "Wayne Modular." I was eyeing it in their catalogs and online late last year, but it was out of my price range (the board alone was over $100!). In January, they slashed the prices by up to 90% so I managed to get 2 boards, 2 shelves, 5 ledges, and 1 pin board for about $120 (original price about $600!). The other board hangs over our computer desk, but that will have to wait for another post as this one is already getting long.

On the ledges over the desk, I keep a variety of embellishments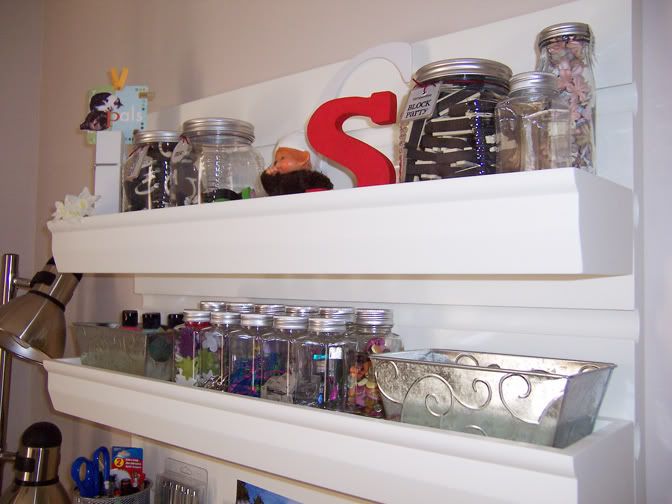 and tools in Making Memories storage jars. The top ledge has the large size jars with foam stamps. I've added a simple MM metal rimmed vellum tag to each and printed the stamp types in Two Peas Old Type font.

The ledge below it has a collection of 12 of the smaller MM jars with buttons, tabs, flowers, etc. The jars are flanked by two metal tin containers I picked up at the Target dollar spot in the spring. The one on the left holds my MM paints and the one on right right I use for miscellaneous loose embellishments I'm currently using.