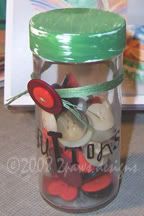 I had a couple of questions regarding the altered Valentine Candy Jar I posted earlier today and wanted to address them. The "i love you" on the front of the jar is a rub-on by Making Memories (Rub-on Minis Love 2). I first came to the idea of adding rub-ons to glass jars while flipping through the November calendar pages of designing with 2006. The prompt for Nov 10 was to "embellish plain containers with rub-ons." I tried it on a small spice jar that I store buttons in and was thrilled with the results.

Last summer I decided to play around with a large jar for the family beach house.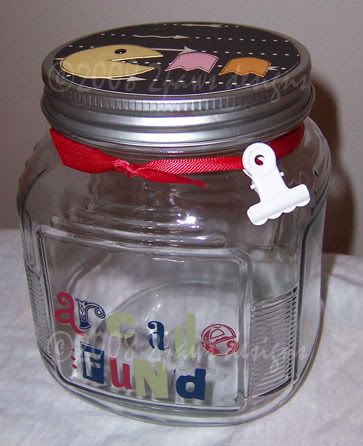 One of our favorite activities is to head a few blocks south to the arcade. Quarters are forever piled up here and there around the rooms. I picked up a jar from the kitchen section at Target to give these quarters a festive home. Since the theme was "arcade" I picked some fun rub-on letters by Making Memories and created a top inspired by PacMan. :)

The rub-ons can be applied the same as you would to any other material. For some, it might take a little more pressure. The jars with flatter areas (Valentine Candy Jar and Arcade Fund Jar) are easier to apply the rub-ons to than rounder jars such as the Buttons Jar.

To create the top for the Arcade Fund Jar, I cut a circle of Scenic Route patterned paper just smaller than the lid.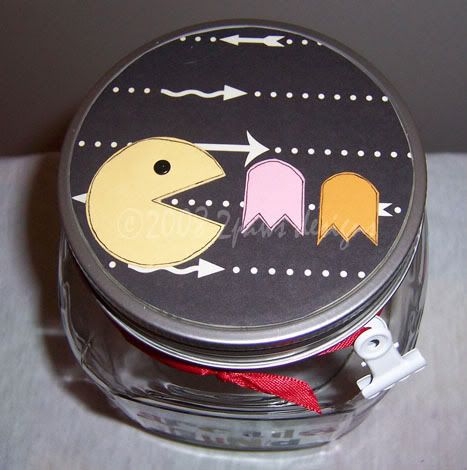 I loved this particular design since it has the feel of movement and the PacMan dots. I used my QuicKutz to cut a circle of yellow cardstock and sliced out a section for the mouth with my X-acto knife. A Making Memories brad created the eye. I hand drew and cut the ghost shapes from other scraps of cardstock I had in my stash. All three figures are outlined in black pen. Finally, I adhered the design to the lid using my Xyron 510.

As with the Valentine Candy Jar, I tied a scrap of ribbon around the neck of the jar. For this jar, I added a Making Memories clip to hold any extra tickets from the arcade - another item that's found loose around the house. Now, we can grab a handful of quarters and any extra tickets before we head out to play. :)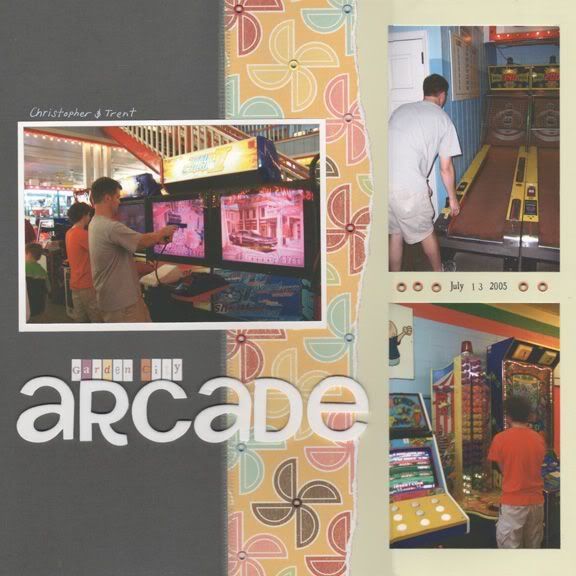 Button Jar Supplies: spice jar from World Market; Making Memories buttons & stitches; Li'l Davis rub-on letters; misc. green acrylic paint (scuffed w/ a sanding block).

Arcade Fund Jar Supplies: jar from Target; Making Memories rub-on letters, metal clip & brad; Scenic Route patterned paper; QuicKutz circle die from Icing starter kit; misc. cardstock & ribbon from stash.

Garden City Arcade layout Supplies: misc. dark brown and green cardstock; We R Memory Keepers patterned paper; Marcella K rub-on stitches; Making Memories TinyAlpha letter stickers, eyelets & date stamp; Miss Elizabeth foam letters; Uniball signo white pen