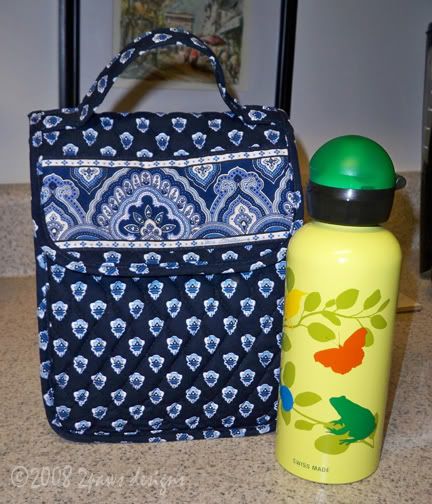 Trent & I have been doing little things to "be green" for years now. We both carry our lunches to work in fabric bags - mine was a gift from my mother :) - and recently we purchased Sigg aluminum water bottles to replace plastic ones.

My only dilemma has been toting these two items (my lunch fills the bag so no room for the bottle) plus my mug of coffee and purse. Ok so the purse can sling over my shoulder, but I'm not very skilled at juggling both drink containers, lunch and my keys. I've been putting the lunch & water bottle in a paper shopping bag which works great except for that nagging thought in the back of my mind that I have another idea on my "crafty to-do" list which would also work and, well, I just want to try.

A few months ago, I saw another blogger post with a reusable bag she made from a Heinz ketchup t-shirt.
I've searched tonight to link that post and can not find it (anyone know what I'm talking about??). The idea came from the Martha Stewart Show (Good Thing: T-Shirt Bag). I've been wanting to make my own, but it keeps hitting the back burner.

Last night, I dug through my drawer of printed t-shirts. I cleaned it out pretty well last year so I only had about 2 dozen to pick from. But the choice was easy - my free Starbucks tee! It was part of a giveaway Starbucks had last year. It's way too small for me. I haven't worn it and probably never will, but love the cute print.

So, I pulled out the sewing machine. Grabbed some purple thread for a bit of accent. And began to sew. I followed the instructions except that I took about 7.5 inches off the bottom. Sewing the bottom at the existing seams created a bag that was too big for my intended use. Here's the result: