My friend, Kim, is in town from Atlanta and we went out to dinner last night at Joe's Place Featuring Joe's Mom's Food. [Yes, that really is the restaurant's name. :D ]
While trying to decide where to go, she mentioned wanting vegetables and Joe's Place immediately came to mind. They offer an all-you-can eat vegetable plate with a good selection of southern favorites.

Joe's Place has been around since 1979 and almost closed 2 years ago. After much urging from customers in Raleigh and across the state, the owner kept the restaurant open. A banner from his news conference in March 2006 stating the change of heart, still hangs over the counter today. It's partially visible in this photo I took and reads: Wow. We didn't know y'all loved us that much, so we're gonna do an encore.



During a last minute get together in December, Kim & I both forgot our Christmas gifts for each other!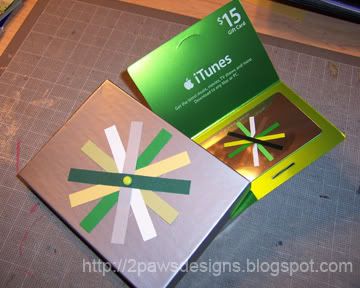 And while we had good intentions of shipping them, that never happened. So last night we had fun giving each other a little bit of Christmas in May.

Just before Christmas, Kim had gotten a new ipod so I picked her up a giftcard to download some tunes and altered a gift box to match.

She spoiled me with this beautiful handmade bowl. I was floored. I've tried using a potter's wheel in the past and have absolutely no skill at it. My friend has talent. The photo doesn't do this bowl justice - totally gorgeous. Thanks, Kim!! :)